Circet have significantly expanded our Electric Vehicle Fleet. The vehicles were provided by Northgate Vehicle Hire, Ireland's largest commercial vehicle rental company.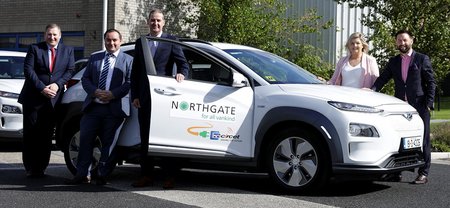 An investment of €1.1m, the 29 Hyundai Kona passenger electric vans are the first electric vehicles to join Circet Ireland & UK's existing vehicle line-up, making it one of the largest EV fleets in operation in Ireland today.
As a leading provider to the Telecommunications, Transport Infrastructure and Power Sectors, Circet delivers an ever-growing portfolio of specialist services across Ireland, the UK, France, Spain and Germany. Following its recent growth, Circet required a new and innovative way to provide vehicles and systems that reduced carbon emissions, improved fuel efficiency and ensured its drivers safety across its entire operations.
Raymond Kelly, Group Services Director at Circet says "Circet aims to implement initiatives that deliver real environmental sustainability. We have extensively trialed a number of electric vehicle (EV) models and have learned the practical lessons required on how best to utilise and develop systems to increase the use of electric vehicles throughout our fleet. Our partnership with Northgate Vehicle Hire for EV's has resulted in lower running and maintenance costs along with the feelgood factor that we as a company and our drivers are actively contributing to a better and cleaner environment".
With more than 20 years of experience in the commercial vehicle rental sector, Northgate Vehicle Hire continues to work closely with its customers in Ireland to provide a variety of flexible hire options. With a fleet of 4,500 commercial vehicles, Northgate Vehicle Hire can source specific vehicles that meet its customers' needs for both large and small businesses across a range of industries.
Billy McGregor, Managing Director, Northgate Vehicle Hire Ireland Ltd says "At Northgate Vehicle Hire we are seeing more and more Irish businesses actively seeking to reduce their carbon footprint. Switching to Electric Vehicles is just one way these companies can make a positive change. Northgate were happy to support Circet with their requirements to provide an eco-friendly, cost-effective vehicle solution delivering zero emissions."
For Circet, which prides itself on achieving the highest standard of safety, quality and customer service, Northgate's electric vehicles supported the company's specific need to reduce costs in an environmentally friendly and sustainable way.
David Thompson, Managing Director Installations Division at Circet says "In our Customer Installation Division, we operate a fleet of light commercial vehicles providing various in-home installation services throughout Ireland. We have been monitoring EV technology over the past 10 years, waiting for a vehicle that aligns suitability with affordability. With the introduction of the Hyundai Kona, through our partnership with Northgate Vehicle Hire, we have finally taken this initial step, to migrate several of our Field teams to EV's. We see this initial deployment as a significant step towards our aspiration to have a fully electrified Fleet, over time."
Fergus Harmon, Sales & Marketing Director, Northgate Vehicle Hire Ireland Ltd, says "At Northgate Vehicle Hire we believe our business is to keep people on the road. Our commercial vehicles provide fleet managers and companies with Vanonomics. Vanonomics means providing flexibility, reduced costs but most importantly peace of mind with our comprehensive support and maintenance services. In today's every changing and complex market, we are simply trying to make business easier through our comprehensive fleet solutions."